Find Out Your COVID-19 Risk
Concerned about whether you have COVID-19? We can help you take the first step.
Use our free screening tool below to assess your risk and receive the most appropriate care recommendations based on your symptoms.
Start your COVID-19 screening now
About Rocky Mountain Pediatric Heart Surgery
Compassionate care from diagnosis to recovery
At Rocky Mountain Pediatric Heart Surgery, our expert team provides compassionate pediatric cardiothoracic surgery in a patient-centered environment.
Our pediatric cardiothoracic surgeons deliver comprehensive cardiothoracic surgical care for children throughout the Rocky Mountain region, including Colorado, Wyoming, Kansas, Montana and Nebraska. Our providers also have experience helping heart patients outside the United States, including travelling internationally to assist those in need of care.
Pediatric heart care when you need it
When your child is ill, we know it affects your entire family, which is why we believe our responsibility is to our patients and you – the parents, siblings, grandparents and others closely involved in your child's care. We are committed to providing expert, around-the-clock pediatric heart care. Your child will always be treated directly by our pediatric surgeon and board-certified pediatric specialists. If your child experiences complications outside office hours, Dr. Leonard will be alerted immediately.
Comprehensive pediatric cardiology services
As part of the Rocky Mountain Pediatric Heart Center at the Rocky Mountain Hospital for Children at Presbyterian/St. Luke's Medical Center, we have full diagnostic and therapeutic capabilities. If your child needs extra care from our team of pediatric specialists, we provide access to specially trained nursing staff and additional services to meet the physical and emotional needs of our patients and their families.
We provide pediatric heart surgery services for a wide range of pediatric congenital heart conditions and defects, including atrial and ventricular septal defects and more complex anomalies, such as hypoplastic left heart syndrome. From diagnosis through recovery, we strive to provide a supportive environment for both you and your child.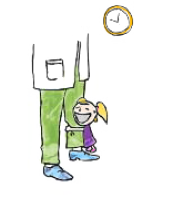 Dedicated pediatric heart specialists
As a team, we've dedicated our hands, minds and hearts to creating a safe environment of healing for children with heart defects. This means keeping a family together in the hospital and providing support services to ease the burdens of illness and hospital stays. A child's heart surgery is one of the most emotionally challenging times a family may ever encounter, so we spend whatever time is necessary at each step along the continuum of care to answer questions with honesty and compassion.

Mon - Fri: 8:00am- 4:30pm
Closed for Lunch from 12:00pm - 1:00pm